All Year Round
(These events are available all year round. But do take note of the opening hours!)
1. GARDEN RHAPSODY @ Gardens by the Bay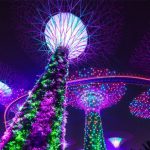 (Photo Credit: Gardens By The Bay)
Details:
Address: Gardens By the Bay,18 Marina Gardens Dr, (S)018953
Suitable for: All Ages
Description:
Come down to Gardens by the Bay to be dazzled by the magnificent sight of our supertrees. Let both music and lights entertain your Music-Smart Kids in the daily Garden Rhapsody light and sound shows today!
Special Features
– The lights appear to dance to the music featured nightly
– Mesmerised in the beautiful music at the great open space while having a night picnic with your Music-Smart Kids!
2. Kinetic garden @ Science Centre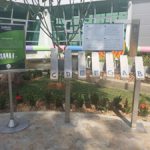 (Photo Credit: Science Centre Singapore)
Details:
Dates: Everyday, all year
Address: 15 Science Centre Rd, Science Centre, 609081
Suitable for: Ages 3 to 14 years old
Description:
Come and discover the inter-relationships between the different forms of energy and much more through interactive and interesting exhibits like the Magic Swing, a Sundial and a Lithophone. Bring your Music-Smart Kids here to check it out and let them explore the wonder of music! There is even a song sheet there for them to follow, including some of their favorite nursery rhymes!
Special Features
– Interactive exhibits will stir up greater curiosity in your Music-Smart Kids
– Your Music-Smart Kids can even try out their favourite nursery rhymes
3. Esplanade Concourse
(Photo Credit: Esplanade)
Details:
Date: Everyday
Opening hours: check on website for different show timings (here)
Address: 1 Esplanade Dr, 038981
Suitable for: All ages
Description:
Come down to the esplanade concourse with your children to experience various kinds of music. Fill your evening with good music, whilst having some quality family time as well. Who knows, you may also find out what type of instruments your children are interested in, or the genre of music that they bob their head along to!
Special Features
– Enjoying different genres of music with your Music-Smart Kids at the clean and relaxed concourse area
– Inspire your Music-Smart Kids to perform publicly!