All Year Round
(These events are available all year round. But do take note of the opening hours!)
1. Singapore History Gallery @ Singapore Art Museum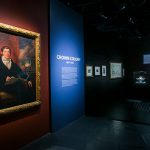 (Photo Credit: National Museum)
Details:
Dates: Everyday, all year
Opening Hours: 10am-7pm
Address: Level 1 Singapore History Gallery, 71 Bras Basah Rd, (S)189555
Suitable for: All ages
Description:
The Singapore History Gallery now has a section that has been specially created to facilitate family time. In this part of the gallery, 700 years of Singapore's history is shown through life-like art paintings and sculptures. This by far the best Picture-Smart way to learn about our nation's background and how we, a tiny red dot, reached our success of today.
Special Features
– Downloadable and printable guide which contains fun worksheet activities!
– Audio-visual stations!
– Get to touch some of the exhibits!
2. Children's Biennale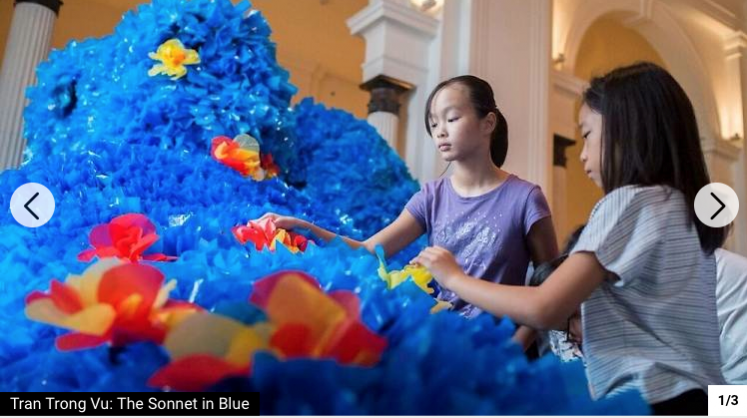 (Photo Credit: National Gallery)
Details:
Date: Everyday
Opening hours: 10am – 7pm (Sun-Thu), 10am – 10pm (Fri & Sat)
Address:  National Gallery Singapore, 1 St Andrew's Rd, Singapore 178957
Description:
The inaugural Children's Biennale features ten interactive art showcases in collaboration with artists from Singapore and around the world. Let your little ones experience a digital and multi-sensory world without physical boundaries with teamLab's 'Homogenizing and Transforming World' exhibit. Then head to photographer Robert Zhao's showcase of 39 animals, plants and environments that have been manipulated by humans – a lesson for kids on the issues of morality and ethics.
3. Arts in Your Neighborhood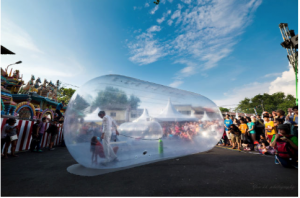 Description:
Organised by the National Arts Council (NAC), Arts in Your Neighbourhood (AYN) returns for its ninth edition from 9 to 26 November 2017. With more than 40 arts activities in 17 locations island-wide, there is a myriad of opportunities for everyone to experience the arts through these accessible activities. Visitors of all ages can also bond over three weekends of fun and family-friendly arts activities.
4. Anime X Stamps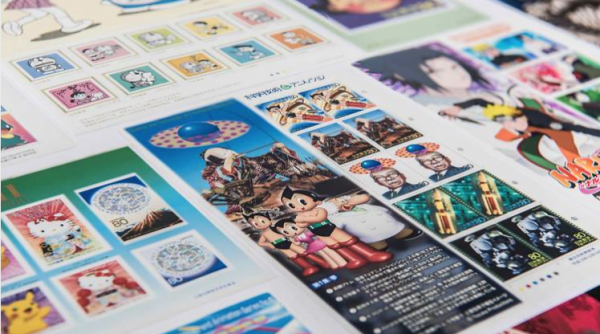 Details:
Date: Everyday
Opening hours: 10am – 7pm
Address: Singapore Philatelic Museum, 23-B Coleman Street, Singapore 179807
Description:
Anime addicts – there is a new anime-themed exhibition in town. To celebrate the 100 years of anime, the Singapore Philatelic Museum is introducing the Anime X Stamps exhibition. It features an impressive compilation of more than 700 stamps from 80 titles including some from Singapore and Japan. Snatch the chance to see limited edition collectibles, including rare original production sketches of Naruto. Spot your favourite anime characters from Pokémon, Studio Ghibili and Attack on Titan on unique stamps throughout the exhibition.
But mark these dates down: on November 19 and December 17, there'll be Animania Sunday. Hum along as local pianist Pianominion performs well-loved anime pieces, snap a photo with cosplayers (psst – a sailor moon character will be roaming around), play dress-up at the yukata booth or learn a new skill at the sushi-making demonstration. Ever wondered what you'll look like in cartoon form? Find out at the live anime-style portraiture station.
5. Cinerama: Art and the Moving Image in South-East Asia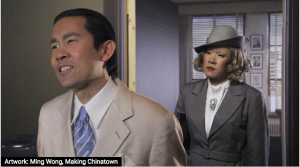 Details:
Date: Everyday
Opening hours: 10am – 7pm (Daily except Friday), 10am – 9pm (Friday)
Address: 71 Bras Basah Road, Singapore 189555

Description:
Constructed around the past, present and future of Cinerama, this exhibition presents a slew of visual projections such as animations, short films, interactive videos and mixed-media that discusses identity, politics and the individual and collective memory. Don't miss on the guided tours, led by artists the museum's curator, which takes you through the process behind each installation.
6. Allegories and Identities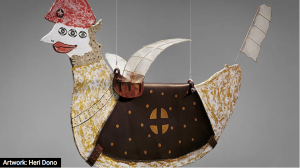 Details:
Date: Daily, closed on Sunday
Opening hours: 10am – 7pm (Mon – Fri), 9am – 6pm (Sat)
Address: 41 Robertson Quay, Singapore 238236
Description:
Leading Indonesian artists Eko Nugroho, Entang Wiharso and Heri Dono are at the centre of STPI's latest exhibition. As part of the gallery's 15th anniversary and celebrating five decades of Singapore-Indonesia bilateral relations, the showcase presents Nugroho's distinct contemporary style, and Wiharso and Dono's Indonesian folklore-inspired works in one space.
7. The Maritime Experiential Museum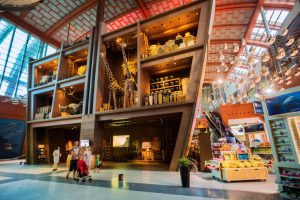 Description:
The Maritime Experiential Museum is reopening on 29 December after nine months, having undergone a massive overhaul and complete reconceptualisation. Featuring all new exhibits that integrate technology and interactive exhibits, older kids will love admiring the ships, having an encounter with pirates, and experiencing a typhoon in all its 4D multi-sensory sound and fury (we liked the little surprise ending after the typhoon!)