Cultivating a child's love for learning¹ does not always require expensive enrichment classes.
At Flying Cape, we have helped to compile a list of free and fun activities happening throughout the country and have gone one step further and have broken down the activities by Multiple Intelligence²!
So if you are looking for fun and free activities in Singapore? Look no further!
Jump straight to the category that matches your child's unique interests and strengths!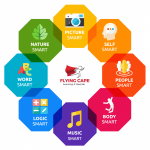 Note
1. Cultivating a love for learning
Read Channel NewsAsia article here.
2. Multiple Intelligence
Multiple Intelligence is the brainchild of Dr. Howard Gardner of Harvard University and has been widely used by educators around the world since 1983 to help children develop to their fullest potential. You can take the Multiple Intelligence Assessment here.
This list is updated on the 15th of each month so bookmark this page to get the latest news.