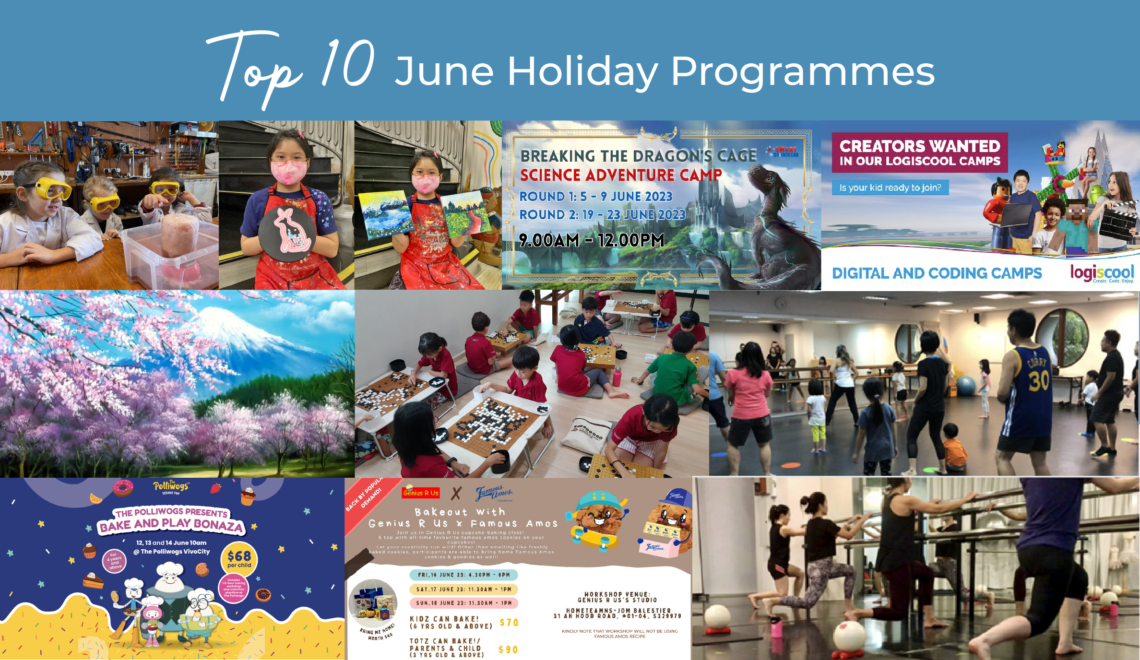 June is just around the corner and with it comes the much-anticipated mid-year holidays. If you're looking for ways to keep your kids engaged during the break, there are plenty of fantastic holiday programmes to keep your children entertained, active, and learning throughout the break.
Here are some of the best holiday programmes for June which have received our thumbs up!
1. Family dance and fitness workshops at Timbre+Eastside

Dance is an excellent way to build strong family relationships while having fun and getting some exercise. In the Family Fiesta Workshop, you and your family will learn a variety of moves that are easy to follow and designed to accommodate all skill levels.
When: 21 May 2023, 3.30 to 4.45pm
21 May 2023, 1.30pm to 3.15pm (with 15 minutes break)
Price:
$45 for 2 pax (inclusive of $5 dining voucher)
$65 for 4 pax (inclusive of $5 dining voucher)
Location:  1 Expo Drive Singapore 486150 (Outside Hall 5)
For a more intense fitness workout, parents can also join the Barre-Kickboxing fusion workout! This intense yet fun session combines the best of both worlds, offering a dynamic mix of cardio, strength training, and bodyweight exercises that will leave no muscle untouched.
When: 21 May 2023, 1.30pm to 3.15pm (with 15 minutes break)
Price: $30 per pax (inclusive of $5 Timbre dining voucher)
Location:  1 Expo Drive Singapore 486150 (Outside Hall 5)
2.The Bake and Play Bonanza + Unlimited Playtime at The Polliwogs

This exciting event offers children the chance to learn valuable baking skills while having fun experimenting with different flavors and toppings. Each session includes a 1.5 hour baking workshop that will guide children through the process of making delicious treats and unlimited playtime at The Polliwogs after that!
When: 12 June 2023 – 14 June 2023, 10am
Price: $68 for 1 Session
Location: 1 HarbourFront Walk, #03-12 VivoCity, Singapore 098585
3.Curiosity Kids Chemistry Lab

In this interactive workshop, your child will have the opportunity to explore the fascinating world of colour science and experiment with all the right equipment, such as test tubes, lab goggles, lab coats, droppers, and more. They'll learn about the principles of colour mixing, and how different colours interact with each other to create new shades and hues. One of the highlights of the workshop is the opportunity for your child to put their newly acquired knowledge and skills into practice and make their very own Confetti Shooter!
When: 1 June 2023, 10.30am-12pm
Price: $42 for 1 Session
Location: 406 Joo Chiat Pl, #02-21/22 Singapore 428084
4.The Dragon Rescue Science Camp 

This innovative program combines science education with the excitement of dragons in a beautiful natural environment, making it an unforgettable experience for kids who love science and fantasy. Led by experienced instructors, participants will learn about the biology, ecology, and behavior of dragons through hands-on activities and interactive lessons.
When:
5 June – 9 June 2023, 9am-12pm
 19 June – 23 June 2023, 9am-12pm
Price: $420 for 5 Sessions (Usual Price: $480)
Locations:
Novena , 1 Goldhill Plaza #02-31 Singapore 308899
Bishan , Blk 246 Bishan St 22 #B1-338 Singapore 570246
5. Weiqi Camp for Kids

Go, also known as Weiqi, is a fascinating board game that has been enjoyed for thousands of years in China and other parts of the world. Not only is it a fun and challenging game, but it also has many educational benefits for children, such as improving their problem-solving skills and strategic thinking abilities.
The Go Academy's 3 Day Go Camp is the perfect opportunity for children to be introduced to the basics of the game and gradually learn more advanced strategies and techniques.
When: Multiple Dates Available
Price: $55 for 3 Sessions (U.P. $60)
Locations:
Ulu Pandan Community Club, 170 Ghim Moh Road, #06-10, Singapore 279621
Kembangan Court, 5 Jln Masjid, #01-12, Singapore 418924
111 Somerset Rd, #04-01 TripleOne Somerset, Singapore 238164
6.Digital and Coding Camps by Logiscool

During Logiscool's camps and workshops, children will have the opportunity to explore a wide range of topics related to the digital world, including coding, robotics, game design, and more. They'll learn how to create their own programs and games, build and program robots, and develop their own websites and mobile apps. Whether your child is a beginner or an experienced coder, their coding and digital camps are the perfect choice for children who are interested in exploring the digital world and developing important life skills.
When: Multiple Dates Available
Price: $399 for 5 Sessions
Location: Gek Poh Shopping Center, 762 Jurong West Street 75, 640762 Singapore 640762
7. Art Holiday Workshops by Heart Studio

Heart Studio's holiday workshops are designed to guide students through the basics of shading and blending techniques, as well as observation theory, before painting. With a choice of three themes to choose from, your child will have the opportunity to explore their creativity side and develop their artistic skills in a fun and supportive environment.
During the workshops, experienced instructors will guide your child through each step of the painting process, from sketching and shading to colour mixing and finishing touches. They'll learn about different painting techniques and how to create depth and texture in their artwork.
When: Multiple Dates Available
Price: $81 for 1 Session (Usual Price: $90)
Location: 1 Charlton lane #01-04 Charlton Corner S539631 Singapore 539631
8.Bakeout with Famous Amos

If you're a fan of Famous Amos cookies and love to bake, you won't want to miss this exciting workshop! Genius R Us is running a fun and interactive baking workshop where participants will have the opportunity to bake and decorate Famous Amos's Character Cupcakes with cream and Famous Amos's Cookies. This is a great chance for cookie and cupcake lovers to come together and explore their creativity in the kitchen!
When: Multiple Dates Available
Price: From $70 for 1 Session
Location:
Balestier: 31 Ah Hood Rd, #01-04, Singapore 329979
Khatib: 2 Yishun Walk Singapore 767944 INSIDE KIDZ EDUCATION CITY #04-06
9. Create an Amazing Mount Fuji Painting 

In this exciting workshop, your child will have the opportunity to learn painting techniques using acrylic impasto to create a stunning Mount Fuji scene on a 12″ x 24″ stretched canvas. Under the guidance of our experienced instructors, you'll learn about the unique qualities of acrylic impasto and how to use it to create dynamic textures and effects in your paintings. During the session, you'll be able to combine palette knife and brush techniques to bring your Mount Fuji scene to life, using a combination of bold strokes, intricate details, and vibrant colours.
When: Multiple Dates Available
Price: $90 for 1 Session
Location: 229A Upper Thomson Rd, Singapore 574361