In this month's issue of Beyond the Classroom, we are proud to feature Rachel Foo from Mouschi studio.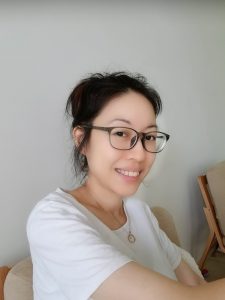 1. Describe yourself and what you do?
I am Rachel Foo, an artist and educator. What I do is create a space for children to speak freely and express their interests. I try to
listen to what they say and respect their creative choices.
This kind of space to grow and explore without academic pressure is invaluable.
It is so important to a child's development as an individual to have a teacher validate their decisions by saying, "Well done!"
2.Is there a story behind WHY you do what you do?/ To what extent have your talents/passions led you in any way to do what you do today?
Both my parents are teachers! Maybe I got it from them? More seriously, I have always been drawn to the arts, and I started out teaching in local art studios. Eventually I went on to have a career doing visual effects in the movie and film industry, but that never gave me the same sense of fulfilment as working with children did.
As a teacher, I get the satisfaction of making a real change in someone's life. Sometimes children come in moody, or shy- to see them leave the class smiling and happy with themselves, that's a great feeling.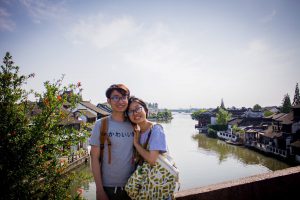 3.Share with us what you were like as a student and how school was like for you. In retrospect, how do you think that played a part in what you do now and who you have become?
Somehow, I managed to do well in school despite being a great daydreamer. I only started becoming more engaged in the classroom as a teenager.
I graduated from Lasalle College of the Arts with a BA in Animation Art. The experience was very enjoyable for me because of the good friends I made there. I'm still in touch with many of them and they're the ones who have inspired me and given me the push to start my own studio.
4.How do you reinvent yourself? What motivates you?
Be open to new ideas, and discard those that don't work out. My life went through a major reinvention when I gave up on a successful career overseas to open Mouschi Studio. It took me a year before I had enough courage to push though my comfort zone and take the plunge.
It's easy to be motivated because I love what I do and teaching is a joy. It's quite cliché but motivation really comes from within. I like providing a comfortable and welcoming atmosphere for my students, where they can experiment and say "oops" but still laugh about it.
5.What's the best piece of advice you ever received or given? Or Share ONE life lesson and how it changed the way you approached life.
 I will always be grateful to the teachers I learned from. They showed me how to be gentle in words and tone. Positive feedback is a wonderful thing even outside the classroom, and praise is a highly effective motivating tactic in children (and adults too!). You really do catch more flies with honey than with vinegar.
Also, it makes for a much more pleasant environment! It's a win win situation all around.
6.The future-ready educator should…
Provide a highly individual learning journey for the student with a strong focus on independent learning and critical thinking. Creative teaching is key too! It is not only our students who benefit from a flexible mind.
7.What have you just learnt recently that blew you away? /Share an example of a life that you impacted 
I read a remarkably interesting article on the future of Artificial Intelligence, AI. More and more there is a focus on machine learning, and "What can I do that an AI can't?" may be a question our children will be asking themselves in the future. It really drives home the point that we need to foster diverse viewpoints and encourage thinking out of the box.
8.How do you hope your business might do its part to transform or add value to the educational scene in Singapore?
Art education plays the role of helping children become like themselves instead of more like everyone else.
At Mouschi Studio, I can teach students the focus, observation skills, and fine motor coordination necessary to achieve technical competence in art,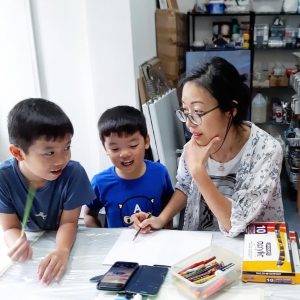 but more importantly, I want to provide children a safe space to learn about themselves. This involves learning self-respect and self-esteem, where the teacher is an encouraging friend and mentor.
In the process, children become inquisitive and creative thinkers who can grow in confidence and resilience when facing life's challenges.