Ever wondered what these successful people have in common?
(From left: Jack Ma, Albert Einstein, Malala Yousafzai, Lionel Messi)
Years of research have shown that successful people (regardless of professions, nationalities and gender) possess a common set of thinking dispositions that help them solve life's complex problems and achieve notable success on the world stage.
So what are these thinking dispositions and how can we learn them to help us reach our personal goals?
About Habits of Mind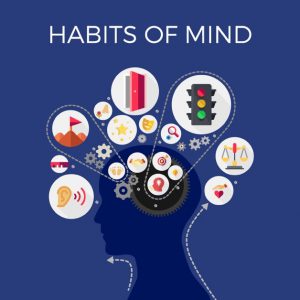 Formulated by educators Art Costa and Bene Kallick in 1982, the Habits of Mind framework identifies the thinking dispositions of successful people and provides a roadmap on how one can habituate these intelligent behaviours.
Aligned with Future Skills concepts, Habits of Mind is widely deployed in schools around the world. The application of Habits of Mind has not only been successfully adopted as a practical way to approach and do well in particular school subjects and examinations but it also brought about significant positive behavioural changes among students.  
Today, the Habits of Mind framework has been adopted by Singapore's Ministry of Education to groom the top 1% and the brightest students in Singapore under its Gifted Education Programme. Most major business schools around the world are also using the Habits of Minds framework as an approach to general thinking strategies.
Why this matters to you?
In an increasingly volatile, uncertain, complex and ambiguous (VUCA) world, we know that learning facts will not be enough to prepare our children for the challenges ahead. As parents and educators, it is our responsibility to prepare our children for the challenges of the world they will inherit. Therefore, it is become increasingly important to ensure that we "future-ready" our children and help them cultivate the Habits of Mind to enable them to behave intelligently and respond effectively to the VUCA environment.
Where can you go to find out more?
If you are interested to find out what the key habits are or receive a complimentary Habits of Mind assessment by the Institute of Habits of Minds? Contact us at [email protected].