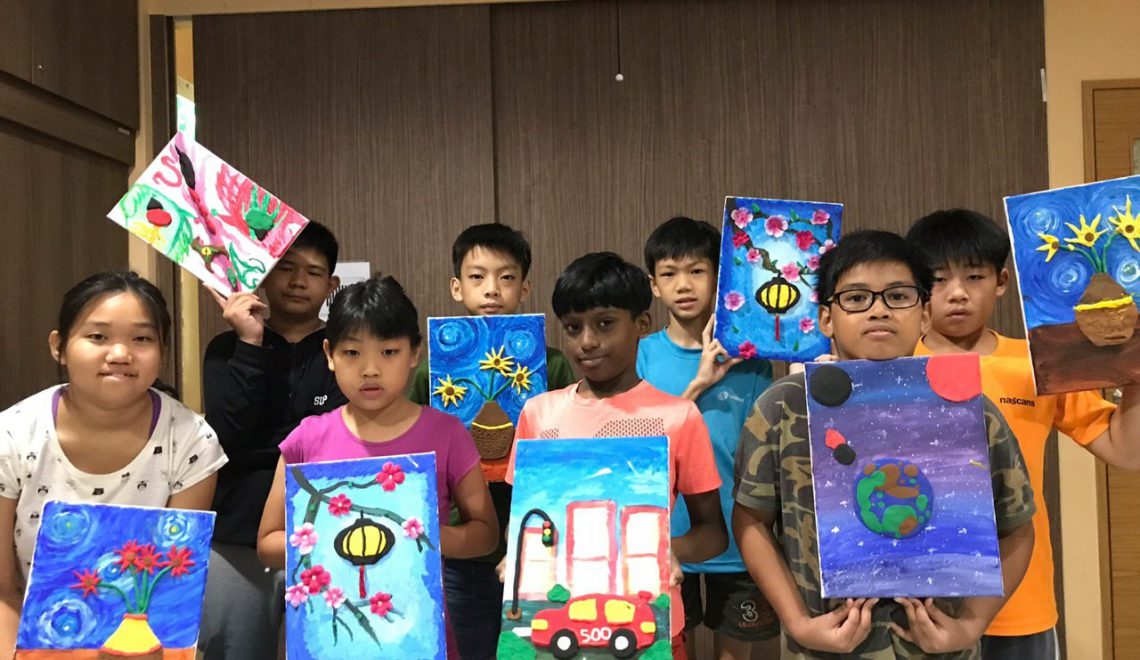 At Flying Cape, we believe that the greatest gift we can give someone is a lifelong enthusiasm for learning. This year, as part of our community outreach initiative, Flying Cape has joined forces with selected charities in Singapore under the "Give a Gift of Learning" campaign.
The Give A Gift of Learning initiative brings together like-minded individuals who would like to do their part to reach out and inspire children and youth in need. Working with partner charity organisations, high quality and educational workshops are selected for their beneficiaries with the aim to be able to help the students discover their strengths and interests and spark their enthusiasm for life-long learning.
The inaugural "Give A Gift of Learning" workshop was successfully conducted on 19th January 2019 with children from Evergreen Bees programme by Care Corner Singapore Ltd. The workshop, held at Care Corner – Teck Ghee Youth Centre, was conducted by the wonderful teachers from MuzArt East Coast.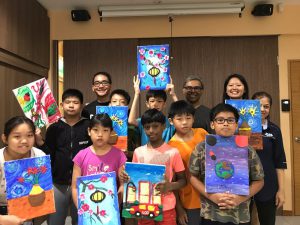 "At MuzArt East Coast, our students learn in a fun, loving and stress-free environment and we encourage them to utilize their creativity to improve their cognitive and learning capabilities. Our courses and programmes are integrated with both scientific and geographical knowledge of drawing and we wanted to deliver the same experience to the children under this initiative. It was a wonderful experience working with them and seeing their creative effort and feeling of achievement by them, the experience truly reinforces our belief that "Everyone can be Creative" – Dipti Bhatt, owner of MuzArts Learning Centre (East Coast)
During the 3 hour session, student beneficiaries learnt how to incorporate clay on a 2-dimensional acrylic painting transforming it into a 3-dimensional piece of art. Among other benefits such as hand-eye coordination and improved motor skills, the objective of the workshop was to provide the students with an avenue where they can express their thoughts, ideas and imagination. The workshop was very well received by the participants and they enjoyed themselves immensely.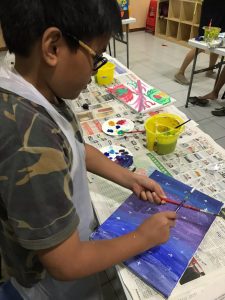 "The workshop was engaging and the children enjoyed themselves! They learnt painting techniques and innovative combined use of paint and soft clay for a 3D artwork. The staff and volunteer from the art workshop were helpful and encouraging, providing individualised help to the children. We definitely look forward to more of such enriching experiences for the children! Thank you to all who contributed in one way or another!" – Faith Ng, Programme Executive, Care Corner Singapore Ltd
"Give A Gift of Learning is a very meaningful initiative for Flying Cape and I am especially grateful to the individuals who have donated their time, effort and money to help make this initiative possible. We are now planning for the next few sessions to reach out to more students and I hope that we will be able to find more like-minded individuals to reach out to the community and help our youths discover their strengths and potential" – Jamie Tan, founder of Flying Cape