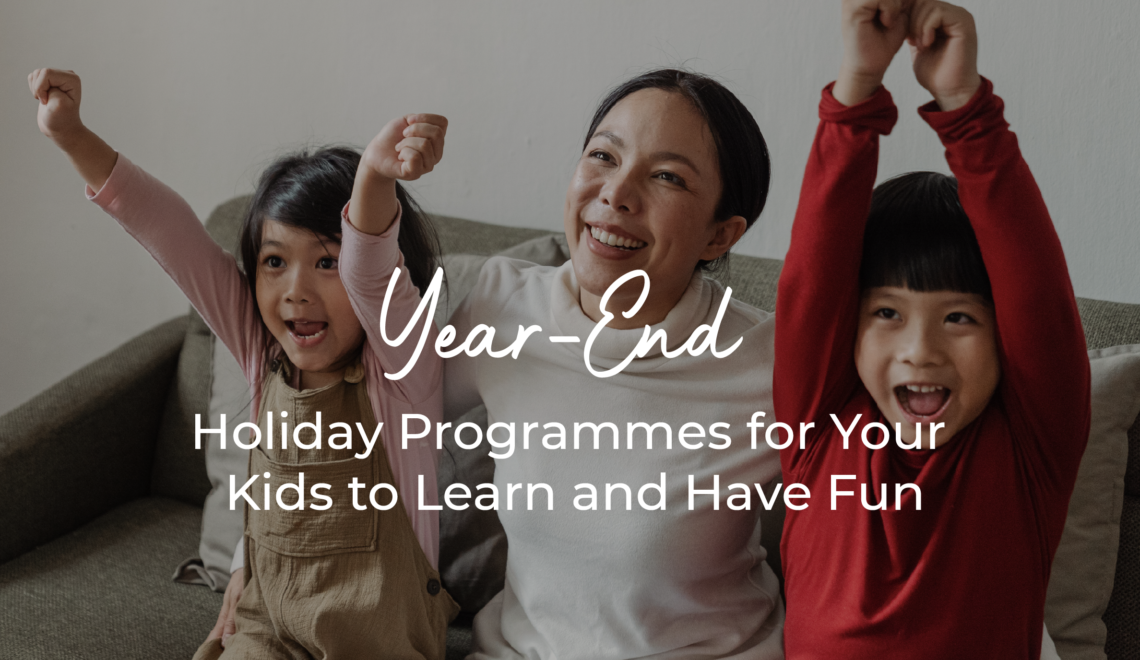 The year-end school holidays are right around the corner for school-going kids, I see some parents cold sweating from the thoughts of the chaos and war zones when the battle gates open.
Our kids are swarmed with opportunities to keep them out of boredom with all the different types of holiday programmes. From creating games through coding to outdoor adventure camps, you will surely find something fun and exciting for your kids.
While you can rest assured that there are plenty of year-end holiday programmes and camps, how do you know which are the right ones for your kid?

1. What types of skills will your kid gain from the holiday programme?
Growing up in a digital era means neglecting skills such as empathy, compassion, teamwork etc. While many holiday programmes will include soft skills activities, first think through your objective of registering your kid for that programme.
2. What is your child's personality type?
Is your child reserved or loves having all the attention on him? If you find that he needs to improve his confidence, you might consider signing him up for speech and drama. Or perhaps he is full of energy and enthusiastic about everything around him, go for an adventure camp to improve his leadership skills! `
3. What are your child's interests?
This point might sound needless, but you will be surprised by the number of kids who turn up for programmes they dislike. Not only will the kid refuse to cooperate, but he will hardly have much take-aways from the class.
Encourage and support your child in the direction of his interests – if he likes to draw, he can further explore his options through a holiday camp programme.
4. What is the programme's plan?
It is vital to find out the schedule of the camp activity before securing a spot. Besides having a better understanding of the activities your child will be doing, you can also tell if your child will benefit from the programme.
If meals are included, some organizers will include meal plans in their brochures. Should your child have food allergies, make sure you inform them in advance so they to prepare alternative meals.
5.      What are the safety procedures?
Safety is of utmost importance in every programme. If the class consists of a large group of children, there should be more steps to ensure the safety of every child.
Popular Year-End Holiday Programmes in Singapore

Arts and Design
Do you have a child who loves colours and drawing? Let her explore the world of art through a different lens by assembling pebbles! Learn how to use pebbles to turn them into beautiful keychains and other accessories.
Suitable for 4 years and up
Address: 229A Upper Thomson Road Singapore 574361
Click here to register your spot today.

Music
Enjoy a 2-day music camp through a variety of songs, dance, and poems and let your child be the star of the child on Day 2 through a mini performance just for you!
Suitable for 2.5 – 5.5 years old
Address: 101 Thomson Rd, Singapore 307591
Click here to find out more.

STEM
Integrating story-telling and a myriad of intriguing hands-on experiments, your children will be awed by the wonders of Science concepts brought to life, while assembling their own creative inventions to bring home everyday, and conduct further experiments with! Learning continues after the 5-day programme, as they bring home a comprehensive workbook, reinforcing the various Science concepts learnt. The fun continues at SuperPark – the all-in-one indoor sports park, where an exclusive thrilling experience awaits your children on the final day!
Suitable for ages 4-12 years old
Address:  Gateway Theatre 3615 Jalan Bukit Merah Singapore 159461
Click here to find out more.

Baking
Do you have a little aspiring baker at home? Baking cookies and cupcakes help improve your child's listening skills and coordination. This a fun and creative workshop for your little one to learn how to bake cute snowmen cupcakes for jolly Christmas. A 2-hour programme for your child to showcase their creativity through the world of baking.
Suitable for 4 years and up.
Address: 244N Upper Thomson Road 574369 Singapore 574369
Click here to find out more.
Let your child create something special this Christmas by learning to bake doughnuts! Not just the ordinary sugar doughnut, but Rudolph Donuts. What's more, you can bake with your child and have fun bringing out your inner child too!
Suitable for 2.5 to 12 years old
Address: 2 Yishun Walk #04-06 HomeTeamNS @ Khatib Singapore 767944
Click here to register your spot today.

Coding and Robotics
Primary school students can explore their options through the world of digital codes and game creations in Minecraft. Learn to build diverse worlds with the inventory items, and have an aesthetic sense to create pixel art.
Suitable for 6 – 14 years old

Online Learning
Click here for more details.
Combining every kid's favourite building block with robotic missions elevates the fun of learning for every kid. Let your child experience what it is like to be in a robotics competition and create various robotic models.
Suitable for ages 5 – 9 years old
Address: 240 MacPherson Road, Pines Industrial Building #03-01 Singapore 348574
Click here to find out more.

Entrepreneurship
Why focus on one area when your kid can be exposed to other areas? In comes 'technopreneurship', where your child will learn the current technology trends and how to turn them into a business as an entrepreneur.
Suitable for ages 10 – 14 years old
Address: 224A Upper Thomson Rd Singapore 574356
Click here to find out more.
Entrepreneurship is not just about making money as a boss. It involves other skills such as marketing, financial literacy, social-emotional skills, and many more. This 2-day holiday camp event provides a holistic experience for your child to learn skills and knowledge outside the textbook, and they even get to be a boss on the 2nd day!
Suitable for ages 6 – 12 years old
Address: Blk 540 Serangoon North Ave 4 #B1-109 Singapore 550540
There you have it! Here are some of the year-end holiday programmes that are popular among parents. If you would like to browse through other programmes with our partners, head over to Flying Cape where more holiday programmes are awaiting you!