Review by Mummy Jeanelle
The twins had a fabulous start for their March school holiday! They happily attended the media preview to experience new events Changi Airport is rolling out this March holiday till 3 May.
Thanks to Flying Cape for inviting my boys who roped in their bffs to attend a series of 4 hands-on activities. They started with bento craft where they create individual ingredients using felt then everyone step forward to put together a nice bento box.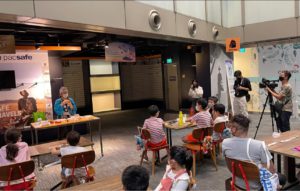 Next, they move on to the "Be a Young Pilot" coding workshop to gain insights into the future of robotics in air travel by programming their own robot in different motions and speed before "flying their planes around the "airport". Didi's clapping madness came in handy to pilot his plane, can you imagine his excitement? The boys had a whale of a time in this workshop before the Airport team brought us for the lollipop tour.
Collaborating with kids' all-time fav Chupa Chups, Changi Airport Terminal 3 has put up brightly-coloured photo spots e.g the ginormous strawberry flavoured lollipop that measures 11.1 m long by 4m high, it holds Singapore's Book of Records for the largest Chupa Chups lollipop display. And there's a whimsical Chupa Chups playground with carousel made of lollipops, an insta-worthy Ferris wheel and see-saw with a giant lollipop lying on it. Missy said it's every kid's wonderland! The boys had much fun running, hopping and fooling around at the playground.
After a quick dinner at 4Fingers, they proceeded to make yummilicious plane & rainbow themed cupcake decorations with Genius R'Us, the kids were generously supplied with lots of Chupa Chups Lollies & candies. I'm surprised the boys enjoyed moulding the fondant while popping sweetness into their mouths every now and then, they concluded playing with fondant is more fun than playdoh.
Last workshop was the Magic Discovery with award-winning magician Max Ling that they enjoyed the most. Besides performing magic show, the kids learned 4 different magic tricks, all ready to impress their friends with the props they brought home.
We came home with fantastic goodies from Changi Airport/Chupa Chups – pretty flamingo cooler bag, collapsible lunchbox, foldable shopping bag, lanyard card holder, candies and LOTssssss of lollipops packed in cute animal backpacks. Thot the boys have outgrown the backpacks but they really love it, Korkor plans to keep his fidget gadgets in there and Didi plans to keep his precious MBS oxen & $ for going out. It was indeed a fun-filled day for the boys!
Do check out the events @ Changi Airport FB & IG. The cute animal backpacks are available this weekend only.