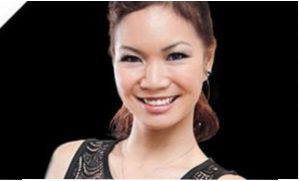 Describe yourself and what you do
I am a Show Choir Instructor and this means I teach singing and dancing. It's my first job, and I have been doing this for the past 9 years and I love it.  I also sing, dance and act myself.
Is there a story behind why you do what you do?
I'm working on Show Choir because I enjoy the craft, the art itself.
I started young, and have liked singing, dancing and acting even as a child.  My parents sent me for piano classes from a young age.  I am very grateful for the opportunities given to me – many people have helped me in developing my skills and furthering my career.  Business acquaintances have become friends, and friends have recommended other friends.  My first big project with Glee Studios was commissioned by NTUC, for their National Day celebrations. I have been their Artistic Director from 2012 to 2015.
What were you like as a student and how school was like for you? 
I didn't really excel in academics – was never great in the science or humanities.  And I knew from early on that's not what I wanted to do for a living.  My best learning experience was mid-career, when I went to Los Angeles and interned with the best Show Choir – Power House.   Those 7 weeks were a fantastic experience.  It's also a path less taken – nobody else in Singapore has done this.
How do you reinvent yourself? What motivates you?
My colleagues and my students motivate me.  When you give to the students, they give back.  I really enjoy seeing my students grow as performers.  Showbiz can be a cut-throat industry, so I also really do appreciate the support my colleagues.
What's your biggest fear/challenge you've faced in life so far and how have you overcome it?
My biggest challenge is to come up with creative concepts everyday.  How do you have fresh ideas every day?  Well, I work hard on constantly finding sources of inspiration. For example, I study other people's work, especially of people that I admire. I do a lot of research.  Anything can be inspirational.  Everything, if you analyse it, can inspire you.
What advice would you give your younger self?
Manage expectations.  Because if you don't manage other people's and your own expectations, you may get disappointed.
Also, it is important to love what you do, then you can be good at that.  A lot of people don't really like what they do. Some people speak of a "work-life balance".  But if that's the most important thing to you, then you won't be top of the field.  This is true whatever industry you are in.
"My friends and I – we don't sleep, we nap, so we have more time to do our stuff.  And we love what we are doing."
How do you hope your business might do its part of transforming or adding value to the educational scene in Singapore?
MADDspace is doing something unique and cutting edge with its Show Choir – it unites the arts in Singapore.  I can't think of anything that is more creative than show choir.  It is bite sized, so even kids can get actively involved.  The training our students receive is at a very professional level.
In many ways, it is all about grooming a generation of children.  They start from about 4-5 years old, and it takes 12 years to see a generation through.  So if our students enter the industry, then that's us doing our job well.  And many of them do, the child talents especially are very well sought after.  The good students go into our artiste programmes and every week we get requests for them to appear on paid shows – wedding proposals, corporate show, carolling and many more.
We work closely with partners like the NAC, NYC, Scpae, MOE and CCAB, so we are very much part of the arts eco-system.
And it is not just children and teenagers participating at a professional level.  My company also teaches beatbox and kararobics – our proprietary brand of karaoke + aerobics which many working adults love.
How does what you teach – Show Choir – benefits children and teenagers?
Our Show Choir lessons are a great balance between education and entertainment.  There is the rigor of the technical aspects of singing, dancing and acting, but it is also a lot about entertainment.  There is also high application value: our students perform 3-10 shows a year, and many of these are paid performances.
Also, at MADDspace, we grow together as a family.  Each student is developed to his or her highest potential and the entire process is very enjoyable for both parents and kids.