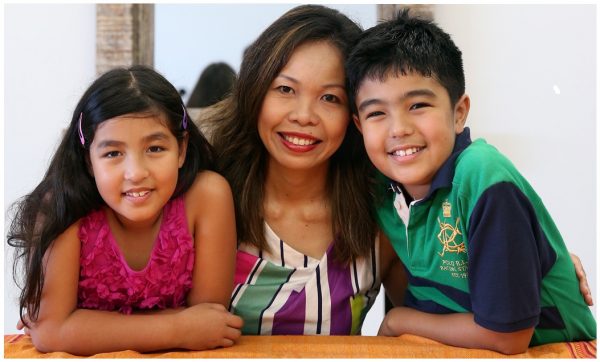 Describe your lovely family and what excites you about them. 
There are four of us in the family. My husband, myself and our two kids. Our son Krysh is 12 this year and our daughter, Kyana, is 10 years old. My husband is originally from India although he grew up in Dubai and later pursued his academics in the USA. He later moved to Singapore for work and has lived here ever since. Today, he is a nationalised Singaporean and is proud to call Singapore his home.
What excites me about my family is that we grow together as an inter-racial family. It has been interesting exposing our kids to both the Chinese and Indian cultures. We uphold a lot of the Asian principles that we grow up with like being respectful to the elders; family comes first etc. At the same time, because hubby and I are exposed to the Western cultures from young, we tend to adopt many western applications in our lifestyles and the way we raise our kids.
Was this family something you envisaged growing up? If not, what did your younger self-imagine family life to be? 
Growing up, I was never one of those girls who dreamt about weddings, a home with white picket fences or having kids.  I was more interested in having fun and exploring. So, the family that I have now is a true blessing.
If we ask your kids, what does Mummy/Daddy do? What would they say?
They will say: "Mummy is a parent blogger and coach. She takes us to fun places and events where we get to play and take home nice goodie bags. Then she has to write about them and post them on her blog. We are famous you know." 
If someone asks you, so what do you do? What are you most likely to say?
I will say that I am a parent advocate. I support and promote moms and dads by highlighting the issues and concerns relating to parenting and children as a mom blogger. Through my training and coaching services, I help parents examine their parenting values, evaluate their priorities and encourage the development of a good relationship between parent and child.
Where is your favourite place to hang out as a family? Why?
We don't really have a favorite place to hang out as a family because there are so many family-friendly places in Singapore that we can go to. When the kids were younger, we will be outdoors most of the time to explore the different play areas and child-friendly attractions. These days, with tweens (10 -12 year olds), I suppose home is our favorite spot to hang out and watch movies. The kids also bring their friends home often.
Overseas, we like destinations that have beaches or theme parks.  Anything to keep the active kids out of our hair and entertained. So places with plenty of water sports and beach activities, theme/water parks like Gold Coast Australia and Bali fits the bill perfectly.
What are some of the most memorable moments with your family?
We have quite a few. Birthday celebrations are always memorable. As are occasions when we watch our son receive his Taekwondo black belt at 8 years old, or when he played his first electric guitar gig on stage at 11. Travelling is always a highlight for our family. One of the most memorable trip was to Whistler in Vancouver, Canada. We took the kids skiing and went on snow mobile rides, dog sledding, and digging for gold in a real mine. When the kids graduated from preschool, I took each of them on individual trips (just mommy and son/daughter).
One parenting secret you would like to share which can make another parent's journey easier?
I will say invest time and energy in your children during the primary school years (the ages of 7 – 12) as this is really the golden years for your children. These are THE best years for you to mould their character, lay the foundation of your relationship with them in the future, and establish the way you and your child(ren) will communicate in the later years.
What's the best piece of parenting advice you ever received?
The best piece of parenting advice I received has to be a quote that my hubby shared with me: "Be firm with them, but do NOT be mean."
Because sometimes when I get mad at the kids and I want to overpower or veto all their actions/ decisions, I will remember this phrase and that helps keep my "dictatorial" tendencies in check.
Who/ what inspires you?
My children inspire me. They make me want to be a better person and do more so that I could inspire THEM. Women who have a great balance in their personal and professional lives inspire me. I aspire to be like these women: entrepreneurs Tjin Lee and Roshni Mahtani, politicians like Claire Chang and Michelle Obama.
 Every parent should read this book/ watch this video:
 Haha.. there are so many inspirational books and videos. But since we are big movie fans, I will recommend them to watch these two really powerful movies: The "Pursuit of Happyness" starring Will Smith and "The Blindside" starring Sandra Bullock.
For me, both movies have powerful anecdotes about being a parent and the strength that we carry through for our kids in our daily actions and behaviors. I also try to adopt the parenting practices in these movies when I parent my kids – be firm when I need to and be friendly when I can.
I would like my children to grow up to be:
Happy human beings with a great personality and attitude towards life.
Tell us about your blog and how people can connect with you.
I blog on Universal Scribbles – a parenting & lifestyle blog that shares product/service reviews, giveaways & blog posts on raising kids, academic pursuits & career development.
My posts on Parenting and Education are divided into three categories: the preschool, primary and secondary (teens). While I think being a mother is a fantastic position to hold, I feel that it should not be my only vocation. So I also blog about having a career, transiting between careers or becoming an entrepreneur.
I am always on the lookout for great people to feature and/or work with. If you resonate with any of the above areas, or will like to be our guest blogger, I will be happy to host you on my blog. Do connect with me on Facebook or Instagram
You can connect with Meiling Wong Chainani at
Website: http://www.universalscribbles.com/
Facebook: https://www.facebook.com/UniversalScribbles/