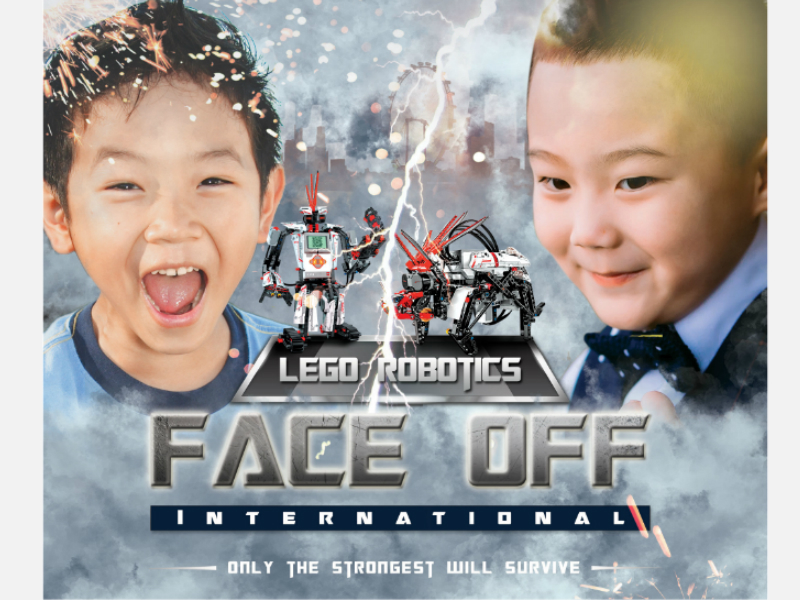 The 2018/2019 FaceOff Lego Robotics challenge was held on 1st December 2018 at the Smartkids Asia fair. The theme for this season's competition was centred around the concept of "Smart Nation – Smart Home". This theme was designed with the aim to help create awareness and appreciation for the technology around us which are increasingly being incorporated into our homes today. By doing so, we not only aim to test the competitor's robotics skillsets but to also create curiosity as we step into a new age of technology advancement.
After months of preparation where competitors from Singapore and China had to design, build and complete the programming necessary to enable their robots to accomplish the missions in the challenge. Some of the tasks included transporting a Robotic Butler to its charging base, feeding a dog with an automatic food dispensing machine and using a smartwatch to help activate the living room's television.
After 5 intensive rounds of face-off, the top teams emerged.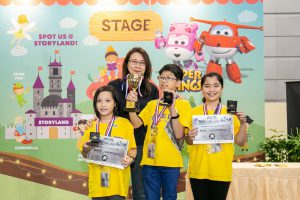 Champions: Team Raven from Singapore (Points: 290)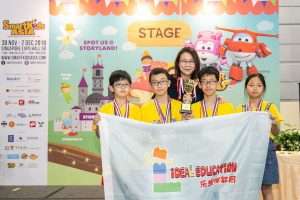 First Runner-Up: Team Ideal Education from China (Points: 250)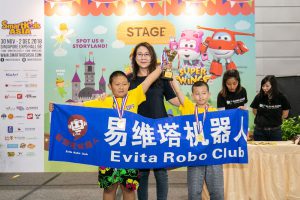 Second Runner-Up: Team Evita Robo Club from China (Points: 190)
The three members representing The IoT Academy, Singapore managed to clinch the title by displaying exemplary teamwork and executing their game plan to perfection. We interviewed the winning team Ryan (12 years old), Vera (12 years old) and Nadya (10 years old) after the competition to find out more about their achievement.
Team Interview
Question: Congratulations! I understand that the Face Off competition is considered quite an advanced robotics competition. How do you feel about winning the championship?
Nadya: I am really thrilled that we won, and I am definitely surprised by the results!
Vera: I was very happy to be given the opportunity to take part in this robotics competition and I am simply overjoyed to have won the championship and honoured to be able to represent Singapore at the competition.
Ryan: I feel elated that we won this robotics competition. I participated in the previous Face Off competition and although we didn't win the competition, I was awarded the best sportsman recognition. Since the end of that competition, my skill level and confidence have increased tremendously. I'm grateful to my coach, Mr Lee, for taking out the time to prepare us for this competition.
Question: How did you learn about this competition? When did you start preparing for it?
Nadya: We registered for the competition online but had to wait for Vera's PSLE to end before we could start practising for it. One week before the competition, we were practising every day for the whole week, but it was a lot of fun!
Vera: I learnt about this competition through my aunt and she was the one who recommended me to take part in the robotics competition. I started preparing for the competition a week before the competition but with the help of my aunt and coach, they made the whole process a lot easier.
Ryan: I could only start preparing for the competition after my PSLE. With the help of my coach, we began intensive training to catch up on the time and we were able to cover many things in a very short span of time. During the training sessions, we were constantly trained on how to adjust according to the situations we faced and to be focused on everything happening on the playing arena at all times.
Question: Do you think you are talented in robotics? Would you like to continue enhancing your knowledge in this area?
Nadya: I don't know if I'm talented, but I do find robotics very interesting. Yes! I would love to continue enhancing my knowledge in this area and try out different types of robotics competition as each one is different!
Vera: I am not very sure if I am talented, but I know for sure that teamwork was the factor that allowed us to be able to win the competition. I would continue sharpening my skills in this area as I feel robotics is fun and knowledgeable and may be an advantage to me in the future.
Ryan: People have told me that I fare quite well in Robotics, but I feel that it is more of hard work than talent for me. I also believe that certain qualities like keeping calm under pressure, helped me a lot during the competition. Without such qualities, I might not have been able to perform as well.
Question: What were your takeaways from the competition?
Nadya: For me, I learnt how to manage the stress when preparing for the competition and that I need to persevere and not give up no matter how hard things get.
Vera: I have many takeaways from the competition. For example, I learnt that working as a team is the key to success in many cases and it is the one skill that everyone should have. Another takeaway is that behind every success there is hard work, without hard work my team would not have won the competition.
Ryan: My team's robot was tiny compared to the big and tall robots from China but we still won. Once the judge at our table saw how well our robot was performing against the robots from the China team, he was very surprised that our "simple" robot could complete the tasks almost perfectly. Even we were surprised to have won….this goes to show…sometimes it's not the size that matters. Be confident!