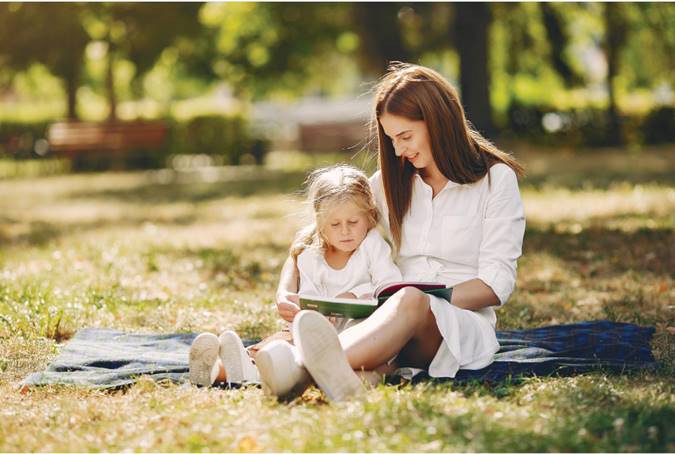 Losing yourself in a book is one of life's great joys. In our busy modern lives, it can be easy to centre our reading habits around tweets and Facebook updates. If you're one of countless people who don't make reading part of your daily routine, you may well be missing out.
At Lorna Whiston, our individualised reading programme gives children the opportunity to choose books from an extensive library to read every week. We value the importance of reading in children, helping them develop a number of skills and of course, a love of literature. One of the best ways to encourage your child to read is by modelling good reading habits as a parent.
Let's discuss the benefits of reading to get you back into the swing of things and pick up your next book. Studies show that reading can have an immediate impact on stress levels. Kicking back with a good book at the end of the busy work day can give your body and brain time it needs to recover.
Words are powerful. Vocabulary is linked with success and being articulate and well-spoken will be vital for your child's future. Regular reading has been proven to improve your vocabulary. Reading aloud to your children could not only put them ahead at school, but will give you opportunities to spend quality time together. I cherished story time with my father as a child, and can still feel the excitement I felt with every page turned.
In our technology crazed world, our attention can be easily drawn in countless directions. Keeping an eye on Twitter, your emails, the latest episode of that Netflix drama and the pot on the stove can be exhausting! When you read a book, your concentration is focused on the story alone. Allow yourself to be immersed in the world the author has built for you, and watch your productivity grow once you're back in the office.
Most of all, reading should be seen as a source of enjoyment. So why not make that family trip to the library or local bookstore to pick out your next title. You never know, it could be the beginning of a lifelong habit.
"The more that you read, the more things you will know. The more that you learn, the more places you'll go." – Dr. Seuss
Here are some novels I have read this year and thoroughly recommend!
Normal People by Sally Rooney is beautifully written and explores a relationship built across social classes.
Little Fires Everywhere by Celeste Ng is a dramatic tale about two families living in the same town, brought together by their children. I simply could not put this book down.
Murder on the Orient Express by Agatha Christie is a classic in the murder mystery genre with a truly iconic ending!
The Keeper Of Lost Things by Beth Hogan is packed full of charm and whimsy. A light, romantic story perfect for a holiday read.
Find out more about the benefits of reading and how Lorna Whiston's Individualised Reading programme helps children develop a number of skills and a love for literature!
Register now to enjoy 40% off Term 1 fees! Click here to register!