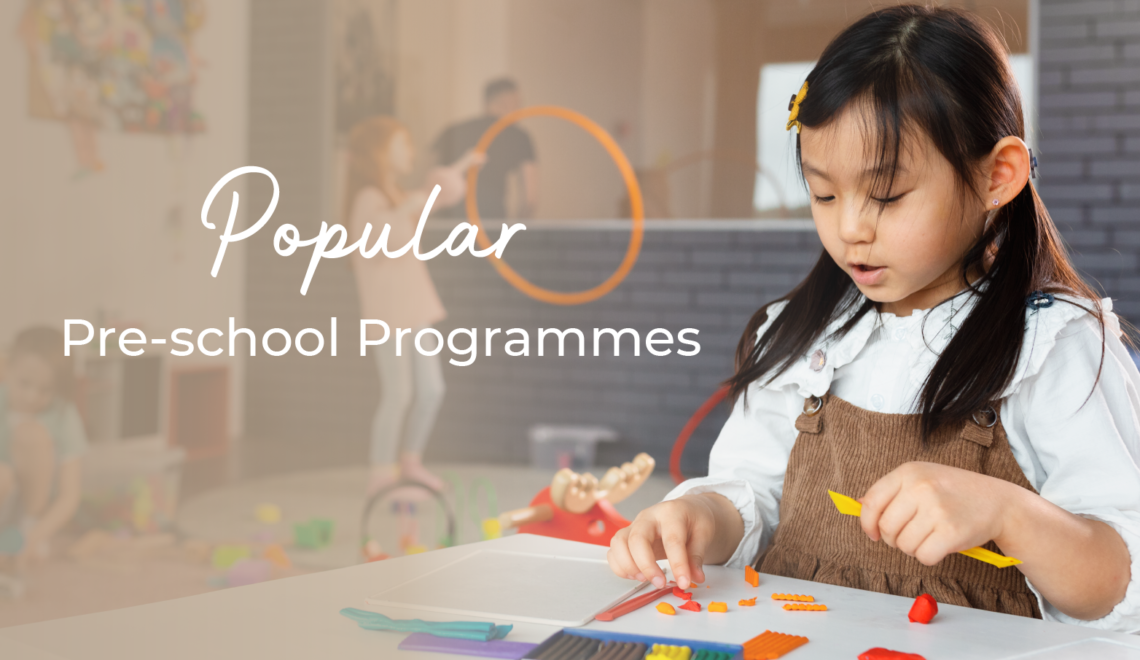 As modern-age pre-schoolers, some of them have activities that look like the schedule of the CEO of Google.
A kid's brain develops the most from birth to five years old.  That is why many parents seek out various preschool programmes for their little ones.
Not forgetting draining their energy bars too. Hashtag just saying.
While every parent wants the best for their child, remember that each child is different. There are more than 1001 different preschool programmes that will suit his interests so take your time to explore them.
Let us look at the pre-school programmes in Singapore that are top on parent's list.
1. Language and Literacy (To build:  Social, Cognitive and Literacy skills)

It is never too early to learn a language, or two. The younger a child is, the easier it will be for him to recognize the sounds of the words and gestures.
While it might seem too stressful for your little one to be learning two languages at once, the child is using the same part of the brain to acquire the second language before the age of five. The truth about bilingual education is that it keeps degenerative disorders away from your child.
Your pre-schooler can communicate better and more confidently when they can express themselves better. This will significantly increase their self-esteem as they grow older.
Encouraging your child to gain interest in languages starts at home. One of the best methods is by speaking and reading to her. The way you speak – your actions and tonality – will influence your preschooler's curiosity and sense of learning. The colours and pictures from storybooks will pique her interest in reading.
While you build on your pre-schooler's interest in languages at home, these preschool programmes can help to improve his writing skills.
Recommended Programmes
Age Group
Edoovo – AI and online learning technology
3 to 8 years old.

More information here

Eye Level – Comprehensive literacy programme originated from Daekyo
3 to 6 years old

More information here
2. Speech and Drama (To build: Creativity and Confidence)

Often, parents think of speech and drama programmes as little children running around on a tiny stage dressed up as trees and princesses.'
Truth be told, kids learn best when they are free to express themselves.
Speech and drama have helped many kids increase their confidence in themselves and the language remarkably. The fear of speaking in front of an audience is minimized, and you will be surprised they will transform into outspoken kids in no time!
Imagination enhances creative thinking skills and teaches your pre-schooler to think out of the box. By putting himself in the characters' shoes, your child is also learning empathy. This is a lifelong trait that will let your child build strong relationships as he grows older.
Let your child delve into the world of Speech and Drama through these programmes.
Recommended Programmes
Age Group
Nurturecraft – Learn. Think. Experience  
4 to 6 years old.

More information here

Seimpi Education – Conducts Music, Performing Arts, Language
3 to 5 years old

More information here
3. STEAM Education (To build: Critical thinking, Creativity, and Growth mindset)

An educational method that involves Science, Technology, Engineering, Art, and Math. Young learners are encouraged to work with their hands rather than with pencils and paper.
Although pre-schoolers have a short attention span, the projects or experiments are designed to allow the child to explore the different methods and techniques to solve problems. They are encouraged to think out of the box and work together as a team. There are no right or wrong answers when it comes to problem-solving because everyone learns from mistakes.
Another reason to let your pre-schooler join a STEAM programme is to identify their strengths and weaknesses. Exposing them to the different skillsets each subject has to offer will give you insights into their personalities and train of thoughts. For example, your child might be more interested in designing and crafting instead of coding.
For parents who are keen to introduce the STEAM curriculum to their pre-schooler, you can find more information from some of these programmes..
Recommended Programmes
Age Group
De Kinder Club – Curated programmes for 6 months to 6 years old
4 to 6 years old

More information here
4. Music and Dance (To build: Communication and Social skills)

Music is known to improve a child's speech development and enhance social skills when taught from a young age.
Some pre-schoolers are shy or have difficulties putting their thoughts into words. Music helps them express their emotions freely and have fun while dancing to the tunes.
The songs, rhythms, and actions contribute to their listening and social skills which are vital for their preparation for primary school. Dancing helps them explore and control their balance and body movements. After all, how do you stop yourself from grooving to great music, agree?
Recommended Programmes
Age Group
Our Music Studio – Early Childhood Music School
0.5 to 4.5 years old

More information here

Seimpi Education – Conducts Music, Performing Arts, Language
1 to 7 years old

More information here

Jete Studios – Holistic dance curriculum
3 to 4 years old

More information here
5. Multi-Sports (To build: Discipline and Social Skills)

If your pre-schooler enjoys playing soccer or swimming, you might want to consider letting him try different sports activities.
Sports are one of the most popular enrichment programmes because it not only keeps them away from smart devices but also keep our kids healthy – mentally and physically.
Discipline and social skills are one of the first things your pre-schooler will learn. It is always a team effort where they will learn to listen and abide by the rules. Building long-term friendship bonds are also one of the benefits of joining a sports programme.
While your pre-schooler will be unable to tell you the sports he likes, there are schools which offer multiple sports programmes to widen the exposure for your child.
Recommended Programmes
Age Group
Ready Steady Go Kids – Work with more than 50 preschools across Singapore
2.5 to 6 years old

More information here

Singafit – Academy and Multi-Sports Camps for kids
3 to 13 years old

More information here
6.  Abacus (To build: Mental Calculation and Increase Concentration)

Abacus has been on an upward trend in recent years.
Parents have seen vast improvements in their pre-schoolers number calculations. As a result, more pre-schools in Singapore are offering Abacus as an extra curriculum for the young ones.
One of the benefits of the Abacus includes supporting the child's ability to concentrate and analyse. The child will learn to imagine the image of the abacus when doing mental arithmetic.
This technique will help students cope with the Math subject when they move on to Primary and Secondary levels.
If you are looking to improve your pre-schooler's numeracy skills, you can consider these programmes.
Recommended Programmes
Age Group
3G Abacus –Provides Mental-Arithmetic Training Course

5 to 6 years old

More information here

Fun with Abacus – More than 10 years working with pre-schoolers

4 to 10 years old

More information here
7. Art for Kids (To build: Creativity and Motor Skills)

There are many proven theories of the positive effects of children learning the art from a young age.
We know that art boosts creativity and confidence, but do you know that it acts as a therapy for relaxation for your pre-schooler too?
Drawing and colouring improve hand-eye coordination and builds up their language skills. They will need to listen and follow the teacher's instructions, thus helping them expand their vocabulary.
If your pre-schooler loves to doodle, and you are looking for a class that combines a fun learning environment with languages, why not consider one of these programmes for her?
Recommended Programmes
Age Group
Tree Art – Inspire Your Child's Inner Picasso
3 to 16 years old

More information here

White Canvas Studio – Art lessons, art jams & workshops.

4 to 6 years old

More information here
8. Baking with pre-schoolers (To build: Motor and Language Skills)

Like art, cooking and baking improve the child's hand-eye coordination and motor skills.
Baking involves actions such as kneading the dough, stirring, and whisking. These movements will build their hand and finger muscles.
Fun fact – Baking helps improve your pre-schooler's math too!
Measuring the ingredients teaches them volume and weight, and how to use the weighing scale. They will learn shapes and sizes if they are baking cookies.
Generally, they will learn how to listen and follow instructions to bake those cookies!
If you are interested in letting your pre-schooler bake with you, but not too keen on having a mess in your kitchen, check out these programmes that allow you to bake with your toddler!
Recommended Programmes
Age Group
Genius R Us – Kidz Can Bake!™, Tots Can Bake!™ and Kidz Can Craft!™ series of workshops

2.5 to 12 years old

More information here

Gobblin Club – Baking Kits
3 & Above

More information here