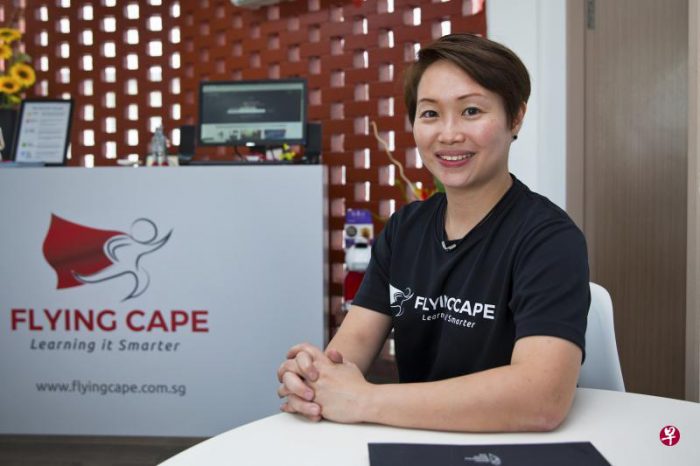 Jamie Tan draws entrepreneurial inspiration from her failed tutoring experience and set up the Flying Cape online education platform to help parents and students connect with suitable tutors. (photo by Zeng Daoming)
View Zao Bao article: https://www.zaobao.com.sg/finance/singapore/story20180830-887008
The series of "Heroes of Heroines and Dreams of the Mall" tells the story of the entrepreneurship of four local women entrepreneurs, including the "rich generation" from scratch, and the successor of inheriting the family. Some people have created a day in the male-dominated industry. Some people also draw entrepreneurial inspiration from the experience of failure.
Compared to men, women entrepreneurs will inevitably encounter more prejudice and discrimination in their careers. However, these heroic heroines used their ingenuity, perseverance and hard work to overcome their disadvantages and made the best out of their situation. I hope their stories will inspire more women to stand up and pursue their own life and career dreams.
The early school years were painful memories for Jamie Tan, the founder of the online education platform Flying Cape. At that time, she could not have imagined that her future career was closely related to the education industry.
Jamie, 39, recalls the time of tutoring more than 20 years ago, and still remembers it clearly. She said that her performance in school was not good, often causing headaches for her parents. What made it worse was that she was constantly being compared with her sister who had excellent grades in school.
After completing Junior College, Jamie secured her place in the Computer Engineering Department of Nanyang Technological University. As her results were undesirable, a classmate volunteered to help her to tutor and advised her to use the few weeks before the final exam to make a final push. Holding her heartfelt doubts, Jamie and her classmates studied for three weeks. I didn't expect the results to advance by leaps and bounds from D to A, which surprised her. "I found out that I was not stupid, but I have been using the wrong method of learning."
After mastering the new learning method, Jamie climbed all the way to the top and finally graduated from school. During her 15-year career, she has been steadily improving, and she has also been appointed the position of Asia-Pacific director of the Information Technology department in a large insurance company.
In 2014, Jamie read an article during her MBA program that discussed the high tuition fees that parents had to pay but there was no improvement in their children's performance. She exclaimed at the moment: "Is this not my story?"
At that time, Jamie had learned through research that different individuals have different learning methods. For example, Jamie's sister was able to learn through a structured method while Jamie was more suitable to learn through the method of mind mapping. Encouraged by her findings, she did even more research on the different learning styles and wrote a thesis which won her the best thesis award of that year.
Encouraged by this, Jamie began to consider if she is able to use the resources and knowledge she has to help more students find the right method to learn. She finally decided to resign and start her own business and went on to set up the Flying Cape online platform to help parents and students find the most ideal learning method for them.
Launching a one-stop platform for booking classes
Jamie found out that many enrichment centers do not have a website for their center despite operating for many years. Parents usually would like to know the course details, fees and class time, and they usually rely on a phone call to the school or sometimes they will have to travel down to the center to ask for the information, the whole process is time-consuming and laborious. On the other hand, many tutors also have to take out the time to set up and maintain the website taking away their time and energy from focusing on teaching.
To solve the problem for both parents and schools, Flying Cape offers a one-stop online portal. Parents who log in to the website can use the Multiple Intelligence assessment to learn about the most suitable learning method for their children. Flying Cape will also recommend suitable classes based on the assessment results. Parents can not only book courses on the platform but also use the tools provided by the platform to track their child's progress. The platform also provides administrative help for the enrichment centers to manage their school profile and upload of class schedule, so that teachers can concentrate on teaching without having to worry about tedious administrative work of upkeeping a website.
Today, there are more than 350 educational brands in the Flying Cape, with more than 20,000 students. However, Jamie still remembers how she went door-to-door to ask the enrichment centers to understand their needs and to look for ways to collaborate.
"It's really hard to find the first 50 partners. What makes me happy is that many partners understand my work and that they also want to help students improve their grades and performance in both academic and non-academic fields. When Flying Cape started, their support gave me great motivation."
In the market now, there are many other online booking platforms for enrichment classes, but Jamie firmly believes that Flying Cape has the advantage that makes is difficult for competitors to copy. "Other platforms are mostly for the digitalization of the tutors and provide administrative convenience. Our greatest advantage is to improve the success rate of teaching by matching the appropriate teachers and students through scientific and systematic analysis."
Three Education Hubs in three years
In less than three years, Flying Cape has established three educational hubs locally.
At the beginning of this year, Jamie was given the opportunity by a partner to renovate the alma mater of our late Prime Minister Lee Kuan Yew, Telok Kurau Primary School. Jamie transformed the place into an education hub known as The Yards, bringing all kinds of different enrichment centers into one location and providing a one-stop education hub for parents to let their child experience many different classes.
Unlike the other two centers located in office buildings, The Yards is filled with spacious open spaces which allow outdoor activities to be conducted. Jamie divided the eight buildings into three areas, catering to students of different ages, children with special needs and also the senior citizens.
The bad learning experience she had during her childhood once again brought inspiration to Jamie. She said that when she was a child, her mother took her for ballet classes. She had no interest after attending two lessons but was forced to finish the entire course due to the expensive fees for the class. Inspired by this and not wanting children to go through the experience she went through, Jamie introduced an All-You-Can-Learn Class Pass that allows parents to use credits purchased to enrol their children in a class to get a better feel of the class. If the parent and child do not like the experience after the class, they can use the remaining credits to try out other classes to avoid wasting time and money.
With more and more parents bringing their children to The Yards for classes, Jamie received many feedbacks and suggestions to include more classes for adults. As parents would also like to keep themselves occupied and learn new skills while their children are in class. The Flying Cape platform now also offers a number of adult classes, including pottery, painting, calligraphy and Zumba.
Team of seven employees managing three Education Hubs
Looking back at her entrepreneurial experience, Jamie believes that the biggest challenge is neither trying to earn the most money nor getting the most customers, but how to seek like-minded employees and form a core team. She said: "The company is not solely driven by profit. I hope that my team can really understand the importance of education and have a vision and enthusiasm for our work."
At present, the company has only seven employees, but the team is capable of managing three venues at the same time. Jamie, who is from the IT industry, uses technology to enable employees to complete administrative tasks in a more efficient and effective way.
Flying Cape plans to open one more education center in the north at the end of this year or early next year, and plans to expand its business landscape to the vast Chinese market in the future.
Jamie said that in the past, there were Chinese students that enrolled in the online courses offered by partners that listed on the Flying Cape platform, which made her realise that international students are also interested in local education. "We hope to spread the best local education courses around the world through the Internet so that more people can find a way to learn."
Our greatest advantage is to improve the success rate of teaching by matching the appropriate teachers and students through scientific and systematic analysis.
——Jamie Tan, founder of Flying Cape, an online education platform