Young Trailblazers (https://www.youngtrailblazers.net), an inaugural competition that debuted in Singapore in 2018, combines both Innovation and Entrepreneurship skills in order to ensure that innovations developed during this competition are marketable and useful in advancing the world beyond its current state. Through structured and industry-based mentorship with actual entrepreneurs and businessmen as well as authentic competition parameters, the participants were put through a gruelling and yet highly-rewarding end-to-end process of coming up with a product and selling it.
Flying Cape is proud to part of a 20-man strong team of industry experts providing support in the capacity as a mentor to assigned groups from various schools all over Singapore.


The Young Trailblazers competition comprised of 2 competitive categories. The Secondary Level category was for the 13-17 years old and the Tertiary Level category was for the 17-19 years old. Students from both categories started their journey on 27th January 2018 and went through several mentoring opportunities before the finalists were identified on 4th May. Flying Cape was assigned to teams from Temasek Secondary school and was extremely excited when all the teams we mentored gained admission into the finals!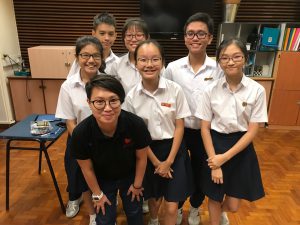 "Working with the students and teachers from Temasek Secondary School has been extremely rewarding! The students took every opportunity to learn as much as they could and I was also very impressed by the dedication shown by their teachers who undoubtedly provided every support possible. I found it very meaningful that I could share my entrepreneur journey with them and that the students could pick up some practical and real-world insights. In our discussions, there were so many great ideas and I had to answer some really tough questions but I think its safe to say that we had great fun throughout"
– Jamie Tan, Director of Flying Cape
On 7th July, all finalists teams gathered at Prudential Tower to conduct their final presentation of their business pitch to the judges and potential investors. Everyone was out to impress and the competition was extremely tough! The judges and potential investors had to select the Overall Winner as well as give out awards such as Most Liked, Most Innovative, Best Pitch, Best BizPlan, and Best Poster to the teams that made the finals.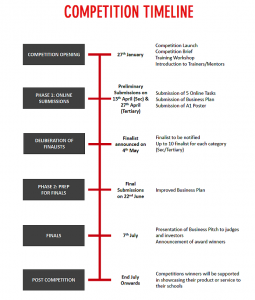 After a very intense competition, the winners were announced.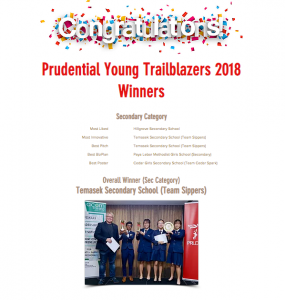 Flying Cape is extremely proud to be part of this very meaningful initiative and will do our best to reach out to support more students in their journey of discovery.