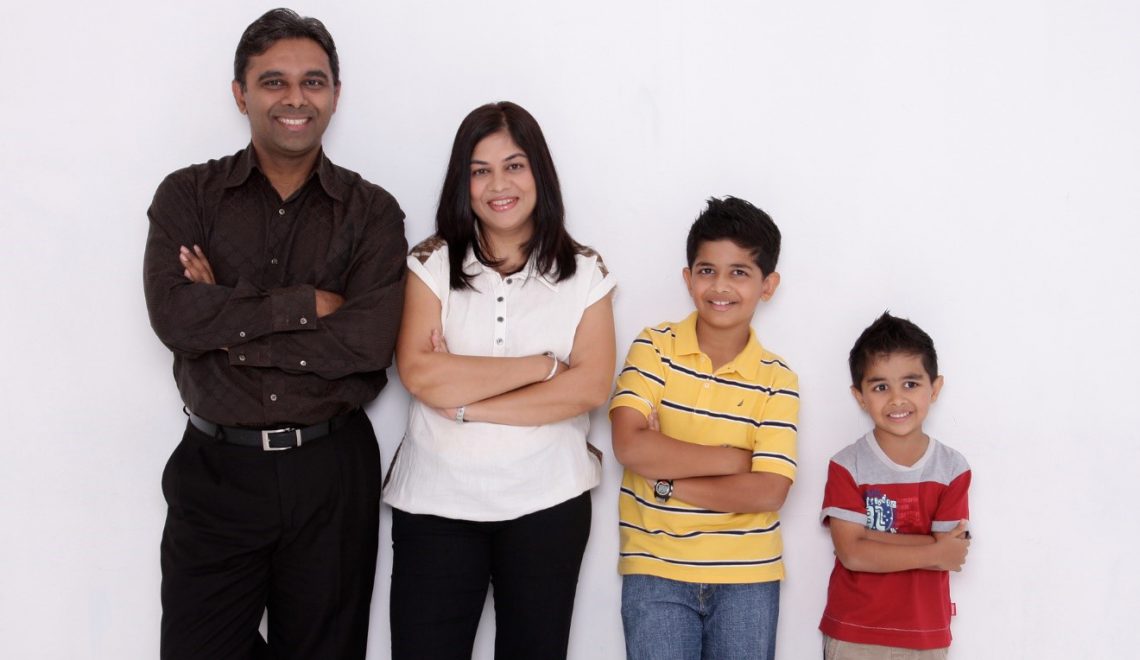 In this month's issue of Beyond the Classroom, we are proud to feature Dipti – Owner of MuzArt Learning Centre @ East Coast. Dipti aspires to share her passion of art with children as she found great joy in seeing the children complete their very own masterpiece! Read on to find out Dipti's story on starting to teach Art.
1. Describe yourself and what you do?
I am a mother of two handsome and extremely fast growing boys, and also the business owner of MuzArt Learning Centre at East Coast where we run art classes and workshops for children in pre-primary and primary levels.
We believe children who learn about art and paintings have better literacy and critical thinking skills, as well as improved self-confidence and cognitive skills.  For this reason, I aspire to be able to share my passion of art with children while contributing to their personal development.
2. Is there a story behind WHY you do what you do?/ To what extent have your talents/passions led you in any way to do what you do today?
I used to run private art classes from my home, mainly for my friends' children and kids in the neighborhood.  This gave me the flexibility to continue my passion in art and painting while making a little side income to sustain my interest.
I realized very quickly what joy I felt in seeing the children's eyes light up when they were able to come up with beautiful works of art and the pride they felt in achieving this feat, especially when most of these kids had little to no experience in art.
When the opportunity to run my own art centre came in the form of the MuzArt franchise expansion into Singapore, I decided to take it.  I found an affinity to their program and curriculum, and felt it was aligned with my beliefs towards children's art education.
So now here we are at The Yards, the MuzArt East Coast branch, a quiet, peaceful and conducive environment for anyone wanting inspiration to paint!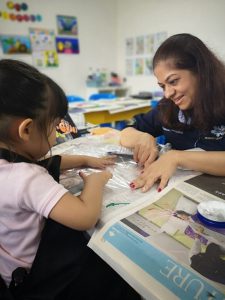 3. Share with us what you were like as a student and how school was like for you. In retrospect, how do you think that played a part in what you do now and who you have become?
School was like a second home for me. Being a very obedient and always an 'on the ball' student, I was a favourite for all my teachers. They always helped and guided me as per my thinking and character, and always encouraged me to do things I love, like art, while juggling my studies.
Their guidance has played a major role in my personal development. They taught me to always listen to others and understand their feelings, which is very helpful and important for a teacher-student relationship.
4. How do you reinvent yourself? What motivates you?
I make it a habit to learn new things constantly, especially by watching various types of art videos online. Anytime I see something new, whether its a style or theme, which I have not done before, I have to try it myself.  This allows me to further develop and improve my own style.
What plays an important part in my art development are the opinions of my husband and children.  They count very much on how I work on my pieces, and how I progress.
5. What's the best piece of advice you ever received or given? Or Share ONE life lesson and how it changed the way you approached life.
One has to accept the fact that not everyone is academically inclined.  Some are masters in their own right and not just in art but also in music, dancing, and other forms of art.  We as parents and educators must recognize that, and encourage and guide them in pursuing these interests and strengths.
6. The future-ready educator should…
Not stop learning, and be prepared to change!
7. What have you just learnt recently that blew you away? Share an example of a life that you impacted
A couple of years ago, I had a student who although loved colouring, he disliked and had no interest in drawing. Kudos to his mum for enrolling him to my classes during his PSLE year as she felt attending art classes may relax him. Initially, he found drawing difficult and frustrating but after some time of encouragement and guidance from me, he started to find some enjoyment and relaxation.  His mother began to feedback how he looked forward to my classes and went home much refreshed and ready to tackle his studies. Although he stopped my classes closer to the PSLE period, he has continued to pursue his newly discovered interest in drawing.
Recently, I was told by his mum that he has received recognition in his secondary school for his artwork.  It seems he has continued with his interest and newly found passion in drawing, and ensures he spends some time drawing every day.  It's amazing how far he has come for someone who had no interest in drawing.  It felt truly heartwarming that I was able to contribute to igniting this passion in him.
8. How do you hope your business might do its part to transform or add value to the educational scene in Singapore?
As we believe that art can contribute to the development of a child's literacy and critical thinking skills, and improved self-confidence and cognitive skills, I hope that the MuzArt East Coast can add value to a child's education by advocating and practicing those beliefs.
We also want our children to be able enjoy their classes in a safe, quiet and a conducive environment.  My centre aims to provide that, without any pressures, without any judgement, to just do what they enjoy doing; drawing and colouring!