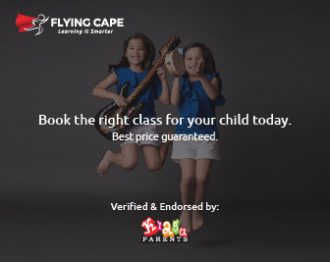 We have great news for you!
Flying Cape is very pleased to share that we have been selected as KiasuParents' exclusive platform partner for the booking of tuition and enrichment classes. Bing selected by an authoritative voice in education like KiasuParents is indeed a huge affirmation for us.
"We love the vision, energy and professionalism of the Flying Cape team. There are quite a few online marketplaces sprouting up these days, but what distinguishes Flying Cape is their deep belief that every child is uniquely smart and their commitment to working with a broad range of experts to deliver personalized solutions for each child.  We look forward to introducing Flying Cape to the parents on our website, and trust that they will benefit much from the one-stop recommendations and booking services provided by Flying Cape."
William Toh, founder of KiasuParents
What this means to our dear Flying Cape Community:
A stronger team working on the Flying Cape platform
The KiasuParents team bring with them decades of experience in IT, Marketing, data analytics and parenting tips.  We are excited to be able to collaborate closely to bring to you better and smarter recommendations for your children's classes really soon!
A wider KiasuParent-Flying Cape community to belong to
Look out for more activities, special promotions and many other goodies coming your way!  We've got your back, and your children's too.
About KiasuParents
KiasuParents.com is Singapore's largest community of parents of school-going children.  Since 2007, Kiasuparents has been part of many Singaporean parents' journey as they guide their children from preschool through to junior college.  The site is also a key source of information for educators and regulators who are looking for feedback on education policies in Singapore.