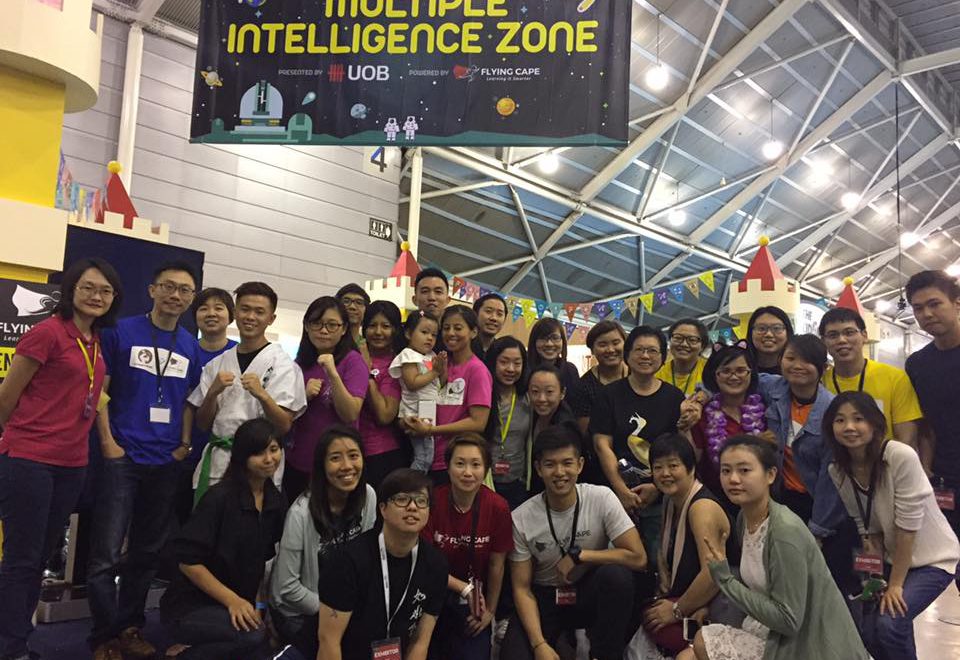 Thank You For the Great Time at the Happy Sparks Fair!
(Go straight to our post-fair deals!)
From 10-13 November 2016, Flying Cape ran the first-ever large-scale Multiple Intelligence Zone at a Singapore fair. We went in armed with the globally acclaimed Multiple Intelligence Developmental Assessment Scales ("MIDAS") developed by Dr Branton Shearer neatly summarized in a 27-question abridged version. And with 17 other partners who conducted the following activities at their booth:
Nature Smart
– Young Nautilus: Touch Pool for Marine Life
Logic Smart
– IT Dojo: Robotics
– Computhink: Coding
– KRTC (East): Science experiments
Word Smart
– Speech Academy Asia: Public speaking
– Nurture Craft: Reading and comprehension
– Megachamps: Creativity
– Learning Journey: Matching Composition Phrases in English and Chinese
People Smart
– People Impact: IQEQ programmes
Self Smart
– Acorn Training: Motivational assessment
Body Smart
– City Ballet Academy: Ballet
– Hybrid Karate & MMA: Karate and self-defence techniques
– Ohm Santih Kids Yoga: Yoga
Music Smart
– Vince Music Art Studio: Various musical instruments
– MADDspace: Show choir
Picture Smart
– Thinkers Box: Spatial and other brain development
– Insight Campus: Mind-mapping
It was such a delight to see our young participants discover their unique strengths and interests.
Young girl holding up a "Picture Smart" sign after getting a high score in that area.  She followed up with exploring the 17 activity booths with her family.
"My twins are different, so I send them to different classes" – Shirley, who bought an All-you-can-Learn Buffet to let her children try yet more new classes.  Her daughters' strongest smarts were Logic and People, respectively.
Hands-on kungfu with the entire family!
Winner of our Best Photo Contest on Facebook.
Sisters taking a photo after trying their hand at building their "future home", and before trying out some ballet moves.
Friends hanging out at the fair and egging each other on to try new things. These guys gamely tried nearly every booth!
Even grandparents got in on the action! This couple ended up buying a couple of educational magazines for their children.
Another highlight was the various stage slots and trial classes.  The photo above shows the cute children/ accomplished dancers from City Ballet Academy.
On a heavier note…
It was not all fun and games.  There were a couple of sad moments at the fair too. A boy had just done his Multiple Intelligence Assessment and we were going to share "what Smarts" he had. He replied immediately that can't be right because he was stupid. We thought he was joking and continued. But he persisted, this time saying that he was "an idiot". So we asked him who told him he was stupid.  His reply: "I am only in P2 and getting Bs".  We pointed out his profile showed that he was good in various other things such as being Picture Smart, Body Smart and Music Smart.  He said, "but these are not tested in school".
Later, this boy went on to try out the various activities in our Multiple Intelligence Zone.  He was encouraged to explore his strengths more and left a happy boy.  We sincerely hope that this encounter helps reinforce his strengths and builds confidence in him.  This is why we do what we do.
All in, here's what other people said about the Multiple Intelligence Zone:
"I think we can agree that kids learn more quickly and retain more information when the subject matter relates to them personally. The act of doing makes learning extremely personal. Which is why experiential learning is not only more interesting, but it also engages all of a child's senses, an important element to retaining knowledge…

Presented by UOB and powered by Flying Cape, the the Multiple Intelligence Zone invited kids to participate in a Multiple Intelligence Developmental Assessment Scales (MIDAS) Test developed by Dr. Branton Shearer to identify the child's SMARTS. The results were then evaluated by the experts from Flying Cape, Singapore's first comprehensive education booking website that recommends classes based on the eight different smarts, to best nurture the child's potential."
Marcus Goh, Grade Expectation on Yahoo News:
"With several big name exhibitors like National Library Board, Flying Cape, and Samsung, children and parents had a wide variety of activities to take part in. Wide walkways meant that it wasn't a claustrophobic squeeze like most fairs are nowadays, so patrons could take their time visiting all the booths.

"If there's another similar fair, I'll certainly come again," said Lee Pei Si, a 36-year-old homemaker. She and her husband were impressed by the activities available for their four-year-old daughter, and found Flying Cape to be an interesting concept.

Flying Cape is an online marketplace that collates enrichment activities by different education providers, sort of like Alibaba for Singapore education providers."
We had a lot of fun working on this event, and are really encouraged by the positive reception.
So, from all of us at Flying Cape: a big thank you!

ps: it's not totally over yet! Check out our post-fair special deals.